I'm excited to announce the upcoming release of my new album with longtime collaborator, santoor maestro Jonathan Voyer! Following up on our debut album, Shanta, September 15 will mark the release of our second album, Raga Charukeshi. Charukeshi is one of my absolute favourite ragas, with it's beautifully haunting melodic contours. Its upper tetrachord can evoke the depth of Darbari Kanada, but the major third in the lower tetrachord leads the listener elsewhere entirely. On the one hand, it can be deep, dark and mysterious, while also being surprisingly uplifting. It is inquisitive; it makes one think, ponder, and ask questions. The raga is often associated with feelings of devotion.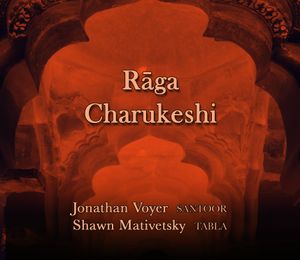 As it's quite difficult to describe the complex personality a raga (rather, it's far more appropriate to experience it first-hand), we have chosen this poem by Henry Wadsworth Longfellow, which aptly describes the mood of our performance:
"A feeling of sadness and longing,
That is not akin to pain,
And resembles sorrow only
As the mist resembles the rain." 
The album will be released on Tuesday, September 15, celebrated with a launch concert to be held at the Petit Campus, 57 Prince-Arthur Est, Montreal at 5pm (Facebook event page). Admission is $15 and includes a copy of the CD. Please do consider joining us! Starting September 15, Raga Charukeshi will be available for sale through all online retailers, including iTunes, Amazon and CD Baby, and traditional music stores such as Archambault.

I must say that we are quite proud of this album. Aside from the usual music practice, we did quite a lot of research on microphones and recording techniques. We did recording tests, auditioning numerous microphones. We were finally able to find a way to capture all the subtle nuances and beautiful resonance of the santoor. The resulting sound quality of the recording is truly exceptional.
Here are some short clips from the album:

And, here is a video clip from a past performance of Raga Charukeshi; of course, different from the version that can be heard on the album. That's the beauty of raga performance - each time we sit down to perform, it's with a completely new perspective; a new experience. Each performance is entirely unique.

Please help us to spread word of our new album by sharing this post. We're very much looking forward to sharing Raga Charukeshi with all of you on September 15!