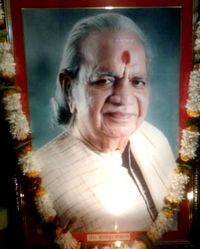 As today is Guru Purnima, this day where we celebrate and thank our gurus, our teachers, for all that they have shared with us, I thought that it would be fitting to talk about Guruji's new album, called Resonance (

गूंज / 

Goonj). The album was actually released in India towards the end of 2014, on the Indian Music 4U label, but has not been widely announced or distributed outside of India until now. Surprisingly, this is Guruji's first non-solo album. For this recording, he accompanied legendary Benares vocalists, Pandits Rajan and Sajan Mishra. The double-CD set was recorded live in concert, in Leeds, July 1998 (possibly sometime close to Guru Purnima?). I don't know why it has taken so long to release this music, as the performance is stellar and the recording quality is out of this world. I cannot recommend this album highly enough. It is a rare coming together of master musicians from Benares, for what must have been an incredible evening to witness.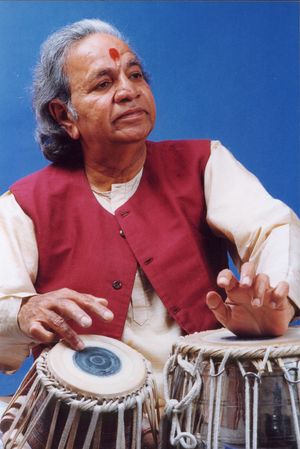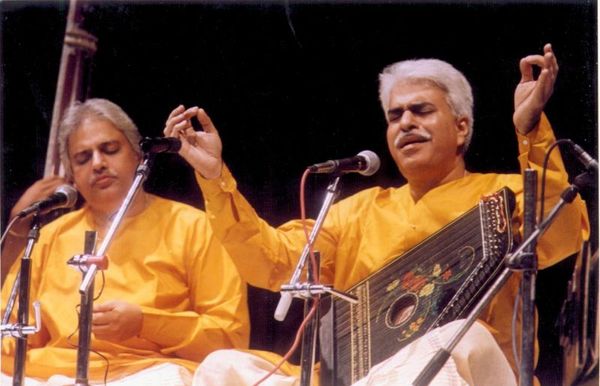 The album contains a good variety of raags, and set to quite a variety of taals as well. Throughout the recording, one can hear Guruji's tasteful accompaniment of the vocals, and the strong bond between all of the musicians onstage. Pandits Rajan and Sajan Mishra are amongst the leading vocalists of our time, and have never disappointed; however this particular performance is truly unique in its energy and musicality, making this recording a definite must for lovers of Indian classical music. Here is the full track listing:
CD - 1
Raag Tilak Kamod: Madhyalaya Jhaptaal - Suran Ko Dhyan Dhariye Gunijan
Raag Tilak Kamod: Drut Teentaal - Neer Bharan Kaise Javun Sakhi Ri Ab
Raag Tilak Kamod: Tarana - Ektaal  
Raag Kamod: Madhyalaya Deepchandi- Balma Na Maane Re
Raag Kamod: Drut Teentaal - Ritu Basant Sakhi Moh Mann Bhavat

CD - 2
Raag Hansdhwani: Madhyalaya Teentaal - Vighan Haran Gaj Badan Gajanan
Raag Hansdhwani: Drut Teentaal - Jai Jai Matangi Maata
Raag Kirwani: Bhajan: Dhumali - Jagat Mein Jhoothi Dekhi Preet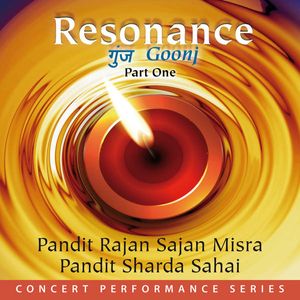 Resonance is available on iTunes, in two parts: Part 1, Part 2. If you are in Montreal and would like to purchase the CD, I have copies available. There are some small clips available on YouTube, so that you can get a taste of the album, however they are quite short and don't truly do the music justice.
Thank you Panditjis for this wonderful recording, and thank you, Guruji, for everything! 
बहुत बहुत धन्यवाद