This past year, I have been working on a new duo project,
Very Long Cat
, with Hamilton-based multimedia artist David Ogborn. We had previously collaborated with his Cybernetic Orchestra, and enjoyed the process so much that we decided to form a new collaborative ensemble together. We have been rehearsing regularly over the internet, with him at McMaster University in Hamilton, and me in the studios at CIRMMT, McGill University, Montreal.
Earlier this summer, we performed at NIME 2015, with David onsite in Baton Rouge, Louisiana, while I "dialled in" from CIRMMT in Montreal. This past July, we had our first live performance, meaning that we were both in the same location (!) at the same time, at the first 
International Conference on Live Coding
(ICLC), held at the University of Leeds, Leeds, UK. There was an array of speakers (eight, if I remember correctly) which David used to spatialize the sound. The tabla started out entirely acoustic, later becoming amplified, and lastly being electronically modified by David. The audience was sitting in a circle, which was a nice change from the usual concert setup, allowing for a more immersive experience.
Soundcheck!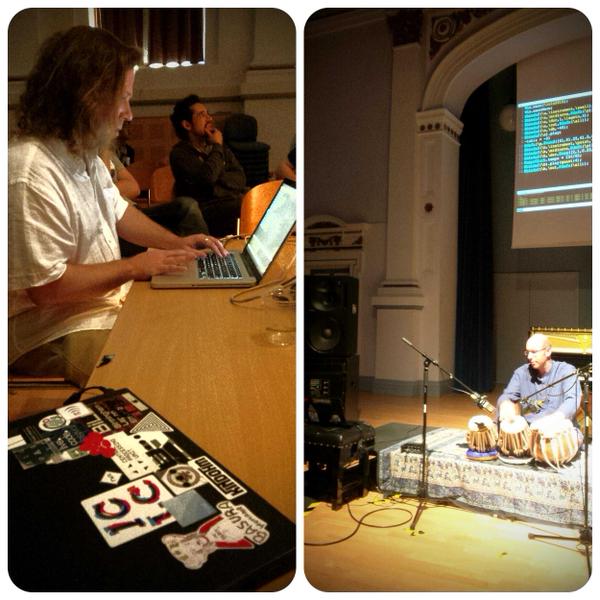 Performance!
As one can see from the proceedings, there were numerous presentations on a wide variety of topics. ICLC activities included workshops, lectures, paper presentations, concert performances, and even algorave soirées. What interested me the most were the live performances, especially those combining instrumentalists with live coding. There were some truly excellent, eye-opening performances, and I definitely left the conference with a newfound sense of curiosity and inspiration to continue exploring this new musical world.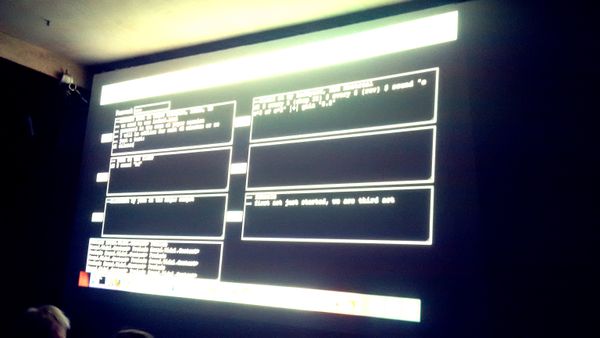 It was quite interesting for me to have had this window into the close-knit live coding community. In many ways, it reminds me of the tabla community. Outside of India, many of us are somewhat isolated, with tabla players spread out over large distances, possibly one or two per city. Every now and then, such as during Guruji's tabla workshops in the past, and
my annual workshops
, we come together into a close-knit musical family. We don't get to see each other often, but when we get together, it's a very special meeting of friends and family. ICLC felt like this. And, while I don't code, I was also very warmly welcomed into this new family. Musically speaking, there are also many similarities - live coding is centred around the idea of improvisation and spontaneous creativity, which is very much in line with tabla playing philosophies. We sit on stage, ready to perform, with our musical arsenal at the ready, however without any preconceived notions of exactly what the coming performance will be. The performance is created live, in the moment. Our musical languages and traditions may be vastly different, but there is much to be shared and to be learned from one another.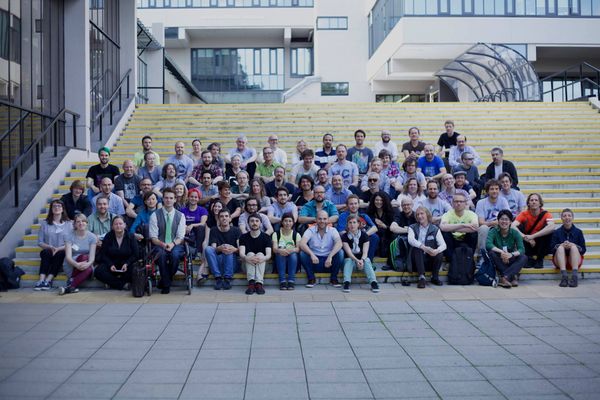 The whole gang - ICLC organizers and attendees.
Next year's ICLC will be held at McMaster University in Hamilton, Ontario. I very much hope to attend! And what's next for Very Long Cat? We'll be giving a clinic / performance at the Percussive Arts Society International Convention (PASIC) this coming November, in San Antonio, Texas!
For more on ICLC, check out their
Facebook page
and
Twitter feed
. Many great photos and posts from the conference.