The Benares Baaj Story is an archival project by the Pandit Ram Sahai Sangit Vidyalaya (PRSSV), documenting the history of the Benares gharana (the style of tabla playing that I learned to play). Founded in London in 1987 by my late tabla Guru, the legendary Pandit Sharda Sahai-ji, and Dr. Frances Shepherd, the PRSSV is dedicated to promoting the classical arts of India through teaching, performance, and publications. The Benares Baaj project was made possible by a major grant from the Heritage Lottery Fund and launched this summer with touring exhibitions in multiple prestigious venues in London, including the Dominion Arts Centre, Nehru Centre, Bentley Priory Museum, and Slough Museum.

Additionally, a digital archive and learning centre will be launched this fall, using a rare collection of material from Pandit Sharda Sahai, his disciples and music followers, including more than 100 audio and visual recordings, 200 photographs, and notebooks with over 500 compositions. This material will be supplemented by artifacts dating back to the 19th century, and oral interviews with musicians. Sue Bowers, Head of Heritage Lottery Fund London said that "this project will create a lasting legacy for the story of the Benares Baaj by documenting its journey from India to London and creating an accessible archive of this tabla-playing tradition, alongside a programme of activities to increase knowledge and foster understanding."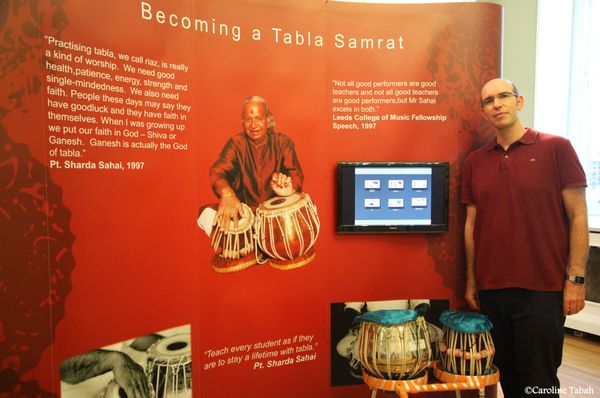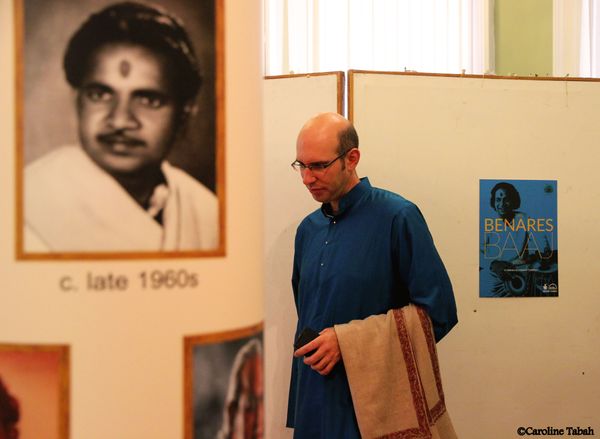 Visiting the exhibit.

During past trips to London, I was interviewed for this project, and it was quite something for me to see my video interview as part of the exhibition. It is truly an honour to be a part of such a great cultural legacy.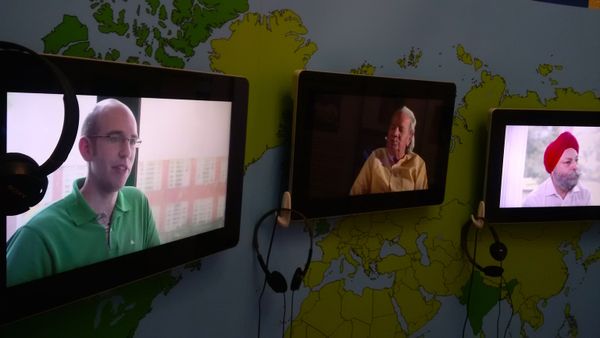 I was invited to perform in the launch concert at the Nehru Centre, which is the cultural wing of the Indian High Commission in London. I performed tabla solo, accompanied by Dr. Frances Shepherd on harmonium, and I also had the pleasure of accompanying Robert Hokum's Raga Blues project, with Robert on guitar, Liran Donin on bass, and Anjan Saha on spoken word. Many thanks to the Canada Council for the Arts for having supported my trip to London for this special occasion.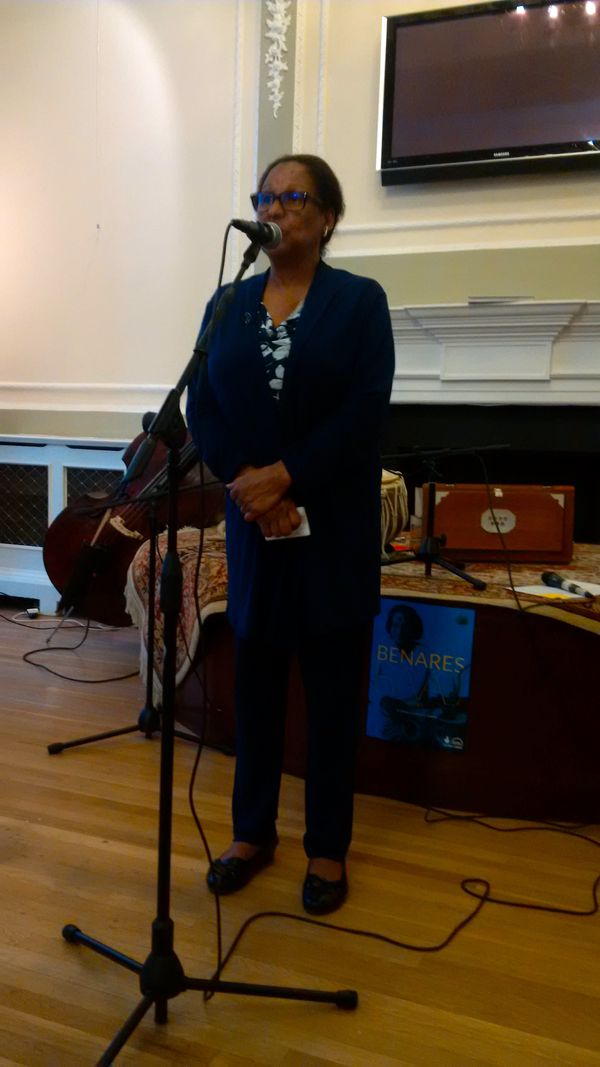 Dr. Frances Shepherd opening the festivities.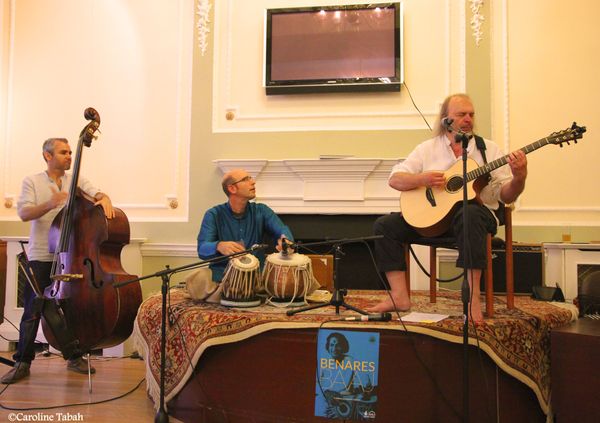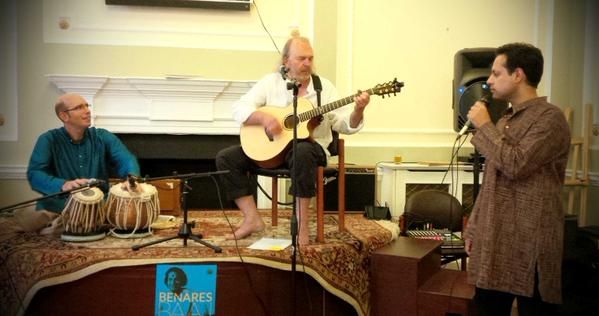 Raga Blues with Robert Hokum, Liran Donin, and Anjan Saha.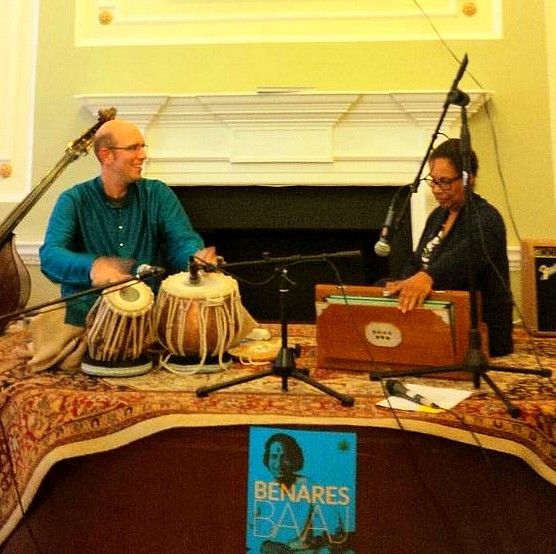 Performing tabla solo, accompanied by Dr. Frances Shepherd.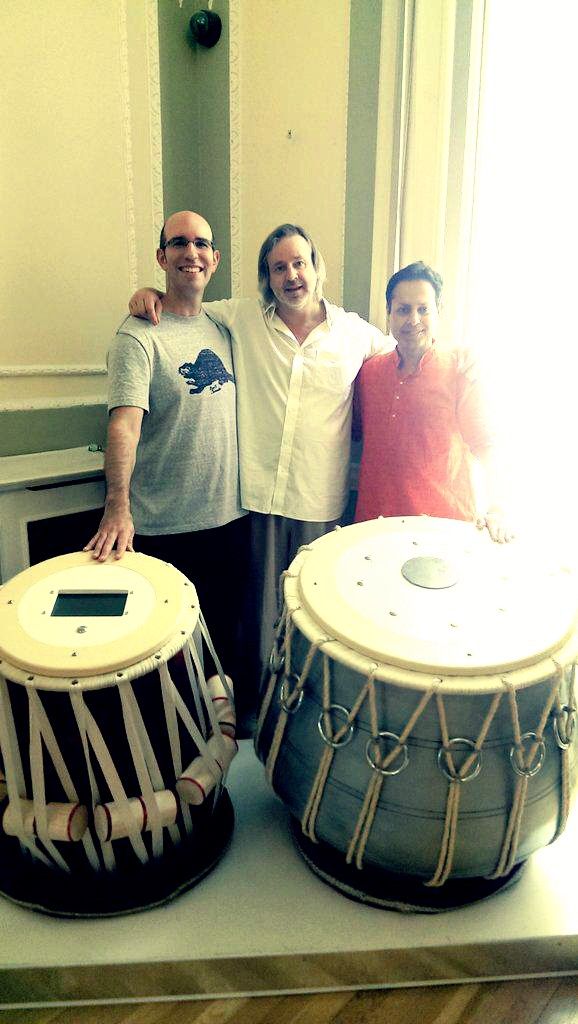 Gotta love those giant tabla! Visiting the exhibit with Pete Lockett and Anjan Saha.
The exhibit was excellent, providing a wonderful overview of the history of the Benares gharana, as well as providing a chronology of Guruji's life, career, and innumerable contributions to the world of music. The exhibit included photos, videos, audio clips, and even interactive introductory tabla lessons. Kudos and congratulations to Frances and Anjan for the very successful culmination of all their hard work! The Benares Baaj Story is both a touching and historically significant tribute to Guruji and to the Benares tabla tradition.